The BMB Blogger of the Week describes herself with these heartfelt words...
In the years B.C. (before children) I was involved with music which I loved. I also did a postgraduate degree and then threw myself into academia which I loved too. Now I do freelance work when people ring me up and ask me to although I have to resist my first urge to turn them down on the basis that if they saw my house and my organisational skills they wouldn't ask me to write a shopping list for them, let alone do some work.
I worry about poverty, the environment, animal welfare and war. I hate the way motherhood renders me invisible in society. I hate that some people think it's OK not to vaccinate their child. I'm working to change all of these things in very small ways.
I write stuff all the time, mostly in my head because I'm busy with children, but sometimes I get to put it down on paper or on the internet. I also love music, especially pop, Britpop and, rather geekily, film scores. Mostly I live to read (even though I can't remember the last time I had a moment to read more than a sentence or two in peace).
Ella at Notes from Home has been blogging for a long time. She's seen it all and weathered many storms which is impressive these days.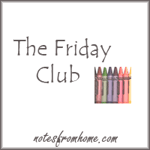 This past week was Ella's youngest son's birthday and she wrote very movingly about him in Three. And I love Ella's post from Tuesday where she pledges to give up being UNHAPPY! There's a rather funny pancake to go along with the post as well!
Ella has made a real effort to build a community spirit on Notes from Home with her weekly features. Bloggers Diary, The Friday Club and Post of the Week. Notes from Home is a great place for new and "old" bloggers to learn a thing or two. You can follow Ella through her blog, her Facebook account and Twitter. Let's give Notes from Home some great BMB support for the week.
To wrap up Blogger of the Week I give you my 10 Must Reads for the week. These bloggers have been throwing themselves into the Blogging Community with gusto. Participating in challenges and memes and spreading the good vibes so give them a bit of love and follow their latest and greatest:
Enjoy some great reads for the weekend and the week ahead! See you next Saturday!